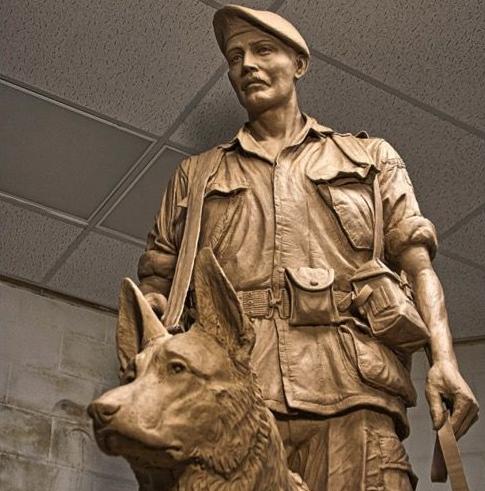 Veterans of the Vietnam War are being asked to lend a hand in finishing a bronze statue honoring one of the county's Medal of Honor recipients.
The sculptor of the clay model statue of Everett-native Robert Hartsock and his military dog, Duke, said Vietnam Veterans will have an opportunity to place their thumbprints into the base of the statue.
"It's a special way to honor them," said Wayne Hyde of Manns Choice. "They will have their prints cast in bronze for generations to come and see."
Hyde has been working on the clay model of Hartsock for more than a year. The 7 1/2-foot statue will be on display for the public at the Bedford Elks Country Club 6 to 9 p.m. Thursday night.
Veterans who served on active duty between 1964 and 1975 will be able to place their thumbprints during the event. Hyde said those who cannot attend Thursday night will be able to place their prints while the model statue is on display at the Bedford County Visitors Center for the next several months.
When finished, the statue set to be placed on Bedford County's Veterans Grove in Bedford.
Hartsock, a 1962 Everett High School graduate, was killed in action on Feb. 23, 1969, while saving the life of his platoon commander at Dau Tieng, Vietnam. For his actions, Hartsock was posthumously awarded the Medal of Honor.
A staff sergeant in the Army stationed in Vietnam, Hartsock and his platoon commander noticed an enemy squad was coming toward the brigade tactical operations center and prisoner compound and opened fire on them as they approached, according to military records.
A wounded enemy soldier detonated a satchel charge that he was carrying. Sgt. Hartsock threw himself on the charge and was badly injured. Severely wounded, Hartsock managed to crawl about five meters where he provided heavy suppressive fire and pinned down the enemy so his commander could seek shelter, according to the medal citation. Hartsock continued shooting until he succumbed to his wounds.
Hyde said he appreciated the opportunity to sculpt the statue of Hartsock. He said the Vietnam War began when he was six-years-old and was a memorable part of his childhood.
"I grew up with Vietnam," he said.
Hyde said he remembers neighbors and relatives enlisting during the war.
"This is very meaningful to me," he said. "It's an opportunity to honor people I knew."
The statue started with a miniature model that was used to make a full-sized rough styrofoam model using a 3D printer. Hyde then finished carving the model and used between a quarter to three-quarter inches of clay as an outer shell.
"I had to get it to look like what I wanted it to look like," he said.
The other pieces in the statue, including a canteen and a rifle, were made separately then added.
The clay model will eventually be taken to a foundry in Montana, where it will be cut into pieces and used to make rubber molds.
"They create a giant jigsaw puzzle," Hyde said.
Wax will be poured into the rubber molds and those wax models will then be coated in a ceramic shell. The new shell will be fired in a kiln, which will melt away the wax and leave a hollow mold for the molten bronze to be poured.
Once the bronze pieces are created, the statue will be welded back together, retouched and will undergo a controlled oxidation for color.
Hyde said the finished statue will weigh about 1,200 pounds.
It will cost more than $100,000 to produce the bronze statue. Dennis Tice of the "League of Pretty Good Guys" said earlier this month that fundraising efforts will likely take more than a year.
Hyde said he will continue to study the clay model during that time, making any adjustments he believes are needed.